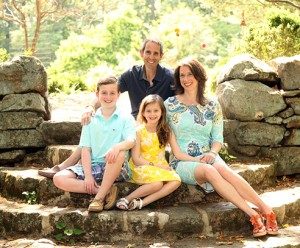 We are looking forward to the spring portrait season and capturing family portraits across New Jersey. There are beautiful places all throughout New Jersey for family portraiture. Whether it's your home, an arboretum, a park or even the beach; New Jersey has an abundance of beautiful backdrops for family portraits. These places are worth traveling to. Whether it's the Cross Estates in Bernardsville / Mendham, the Deep Cut Gardens in Middletown, Sayens Gardens in Hamilton, one of the many arboretums in Bergen County, or even the beach!
The best things about these places is that you get different looks for your family portraits by moving only a few feet.  For instance, the Cross Estates has a beautiful garden. A few feet from the garden are beautiful stone walls and columns.  Attached are these beautiful gates with ivory that seem to be strategically draped as perfect as ivory can be draped. The Deep Cut Gardens in Middletown have these cool looking Bonsai type of trees then fifty feet away they also have a great garden. A lot can be photographed quickly which is important if you have small children.  Children under five have a short attention span so it's good to be at a place where you can quickly capture a nice variety with different backgrounds.
An important factor regarding the above places that we've mentioned is that they are all relatively quiet. As a result, there aren't many people distracting the small children in the family portraits.
There's no time like spring to have a family portrait taken
Spring is a great time for family portraits.  It's the most colorful time of year in NJ. Furthermore, the temperature is just right unlike the summer and winter months where it can be much too hot or too cold. It's a great time to be outside and many of our clients explore the arboretums after their portrait session.  Most of our clients are amazed that it's the first time they've been to these places even though they live right down the street.
Contact us
Contact us today if you would like more information about our services.  Click HERE to either chat by phone or to email us.
Click here to see more examples of our New Jersey family Portrait Photography